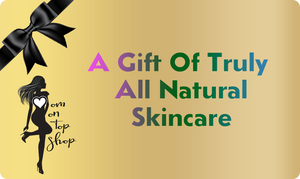 Mom On Top Shop GIFT CARD for a TRULY all natural, wholesome gift!
Our products are for everyone from pregnant Mamas...to ALL women that want an every day skincare product to keep skin glowy, tight, radiant, skin...to women with stretch marks/scars/itchy/dry/ashy skin as well as eczema/psoriasis and other issues! 
DESCRIPTION: Co-created by a world renowned skin healing physician, BAKE IT is for our pregnant mamas, while SHAKE IT IS FOR EVERYONE (including postpartum Mamas and non-moms as well), and they stand out by being made of ONLY rich, wholesome ingredients, and do not even contain water like most store bought products! They have prevented and faded all types of marks and scars, tightened loose skin, soothed itchy/dry/ashy skin as well as eczema/psoriasis, *and are also just used by those with NO skin issues as a good ol' every day head-to-toe moisturizer to help keep skin tight, glowing, and beautiful! They have anti-itch properties, are ultra-moisturizing, vegan, organic, chemical-free, and all natural!
---
We Also Recommend